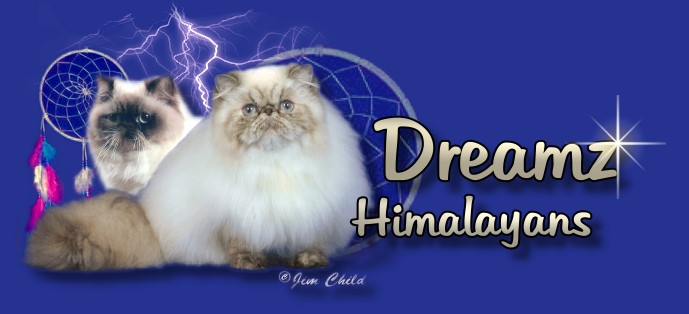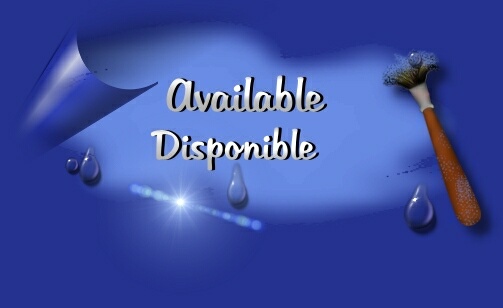 Email: benlynn20012000@yahoo.ca
PAYMENT for deposit taken by
E Transfers, Certified Money Orders,
Bank Wires
PAYPAL only under special conditions..
****************************************************************************************

PLEASE for important info on our policies and the kittens read to the bottom of the page, after the listings..

****************************************************************************************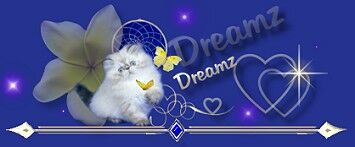 LAST UP DATES : April 18th, 2019
*******************************
Email: benlynn20012000@yahoo.ca
*******************************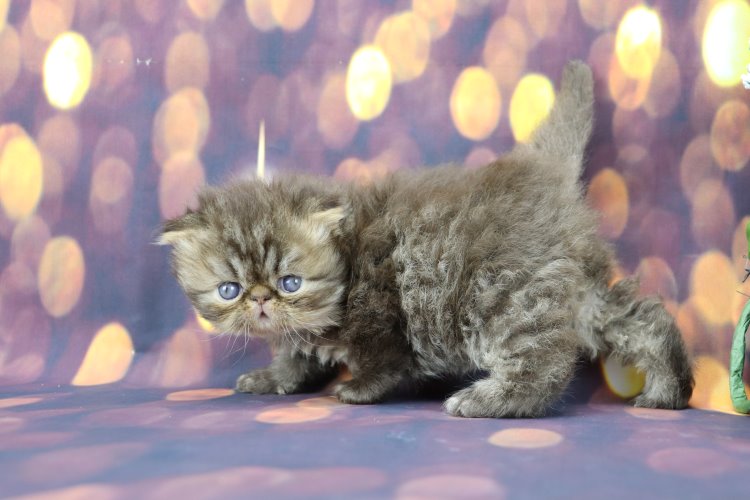 DREAMZ CHOCOLATE KNIGHT aka KNIGHT
DOB- Mar., 9th 2019
Chocolate Tabby Male Rare Persian
Sire-

SMGC.DREAMZ DREAM BEAU CNW & RW



GrandSire- GC.LAKE HYCO BROWN THRASHER of DREAMZ
GrandDam- GC.PLAYWICKEY MEGGA RUSH of DREAMZ
Dam- CLEOPATRA

GrandSire- INT.CH. JUDE ROCK THE LINE of DREAMZ
GrandDam- GC.DREAMZ ANGEL EYES
PLEASE CHECK OUT OUR FACEBOOK page under Lynn Seguin for up dates
Email: benlynn20012000@yahoo.ca
PREMIUM PET $900 BREEDER/SHOW $2,500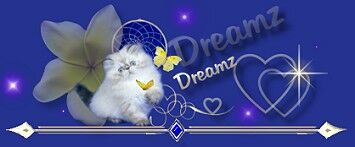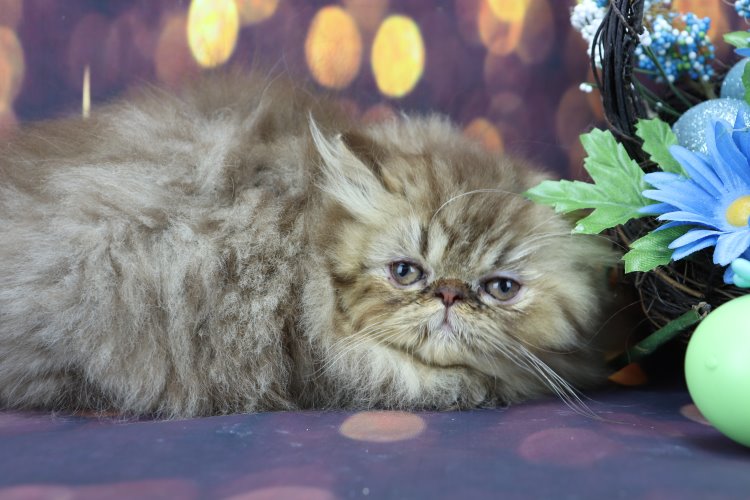 DREAMZ CINNAMON FLAKES aka CINDY
DOB- Jan., 10th, 2019
Chocolate Tabby Female Persian rare
Sire-

CH.DREAMZ CHOCOLATE LIGHTING



GrandSire- DREAMZ CHILLI PEPPER
GrandDam- CH.ALISE OXOLADO SARALEE
Dam- DREAMZ AMAZONIA

GrandSire- DREAMZ CHILLI PEPPER
GrandDam- DREAMZ CLEOPATRA
PLEASE CHECK OUT OUR FACEBOOK page under Lynn Seguin for up dates
Email: benlynn20012000@yahoo.ca
Pet now $800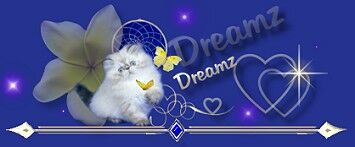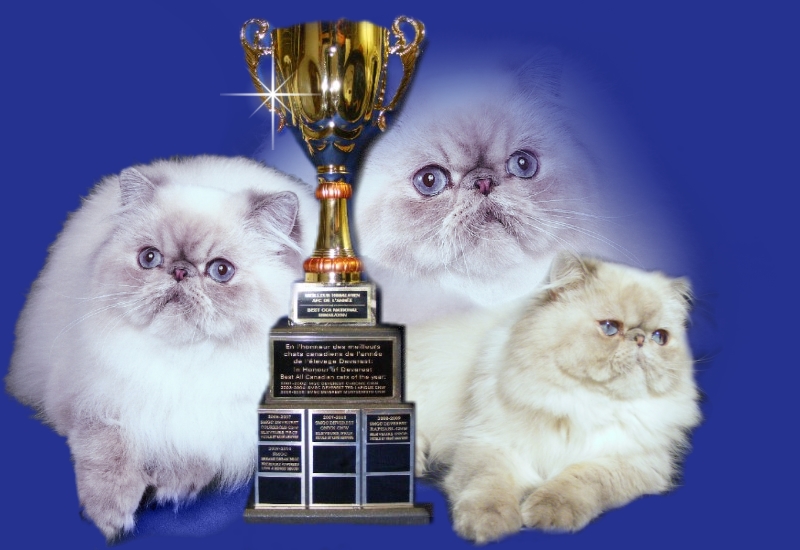 BEAU RECIEVES THIS TROPHY FOR
BEING THE CCA'S HIGHEST SCORING HIMALAYAN
MAKING DREAMZ THE TOP HIMALAYAN BREEDER
FOR THE CCA 2009 -2010 SHOW SEASON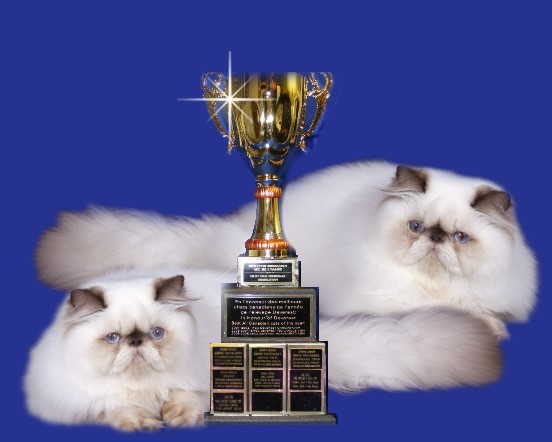 SMGC DREAMZ POSEIDON RECIEVES THIS TROPHY FOR
BEING THE CCA'S HIGHEST SCORING HIMALAYAN
MAKING DREAMZ THE TOP HIMALAYAN BREEDER IN CANADA
FOR THE CCA 2012 -2013 SHOW SEASON HE IS ALSO CANADA'S
3RD BEST CAT AND A REGIONAL WINNER AS WELL.
* * * *


THERE ARE SEVERAL UP COMEING LITTERS
THEY WILL BE FROM VISUALS AND CARRIERS SO WE WILL GET BOTH IN SEVERAL POINTED
AND NONPOINTED COLORS. THEY ARE FROM TOP CATS SO BREEDER AND SHOW
SHOULD BE ADVAILABLE IN THE FUTURE.


| | |
| --- | --- |
| Any possible new owner is required to send us a detailed email about yourself, and what you are looking for. Our kittens are our babies and they are part of our family, therefore we are very picky on where they go. | Il est requis que chaque nouveau propriétaire potentiel nous envoie un email détaillé à propos de lui-même et de ce qu'il recherche. Nos chatons sont nos bébés et font partie de la famille, pour cette raison, nous sommes très concerné sur l'endroit où ils iront. |
Come and visit us on Face Book
under Lynn Seguin for fast up to the minute up dates
on coming kittens available and show results.
****************************************************************************************
PLEASE ready, print, fill in, and scan and send back to us our SALES CONTRACT found on our Sales Contract page.
You'll find that all your questions are answered to this page. Plus if serious please request our payment info..
****************************************************************************************
We are on FACE BOOK look for our page under Lynn Seguin. Why should you well on our Face Book kittens are posted first, you'll get to see them first. Or you'll see up dated photos faster before other don't loss out.And the main treat well once kittens are old enough we post videos of the babies nothing is better then a beautiful video of the baby your in love with. A video will give the buyer a much better idea of their baby. So don't waste time check us out.
****************************************************************************************
PLEASE ready, print, fill in, and scan and send back to us our SALES CONTRACT found on our Sales Contract page. You'll find that all your questions are answered to this page. Plus if serious please request our payment info..
****************************************************************************************
ALL KITTENS AT THE DREAMZ CATTERY ARE FROM DNA TESTED PARENTS FOR PKD. THEY ALL GO WITH ALL THIER SHOTS THE SECOND INCLUDES THIER RABIES ALL HAVE BEEN DEWORMED, AND FREE OF ANY HEALTH PROBLEMS AND LEAVE WITH AN INTERNATIONAL HEALTH CERTIFICATE FROM OUR VET

WE SHIP TO MOST AREAS IN THE WORLD AND HAVE SHIPPED TO ALL AREAS OF CANADA, UNITED STATES, AND BRAZIL SHIPPING COST ARE DIFFERENT FOR OVERSEA AREAS DUE TO THE AMOUNT OF PAPERWORK INVOLVED AND THE DISTANCE, OUR SHIPPING COST START AT $300 AND UP.

***************************************************************************************
DEPOSITS;
First off our deposit amounts are as follows; PETs $300, and BREEDER / SHOW $500.
These are both NONREFUNDABLE no exceptions.
Deposits are taken in good faith that this is the baby you want, thurs removeing that baby from possible sales. The deposit is used to make arangements and paper work on your baby going to you, which cost time and money to complete.
**************************************************************************************

OUR PRICES;
First we are tring to keep our prices as low and as fiar as possible you will find our prices are lower then most breeder that are producing the same quality. One must keep in mind the hind cost that are involved in raising a baby to the strong age to leave to thier new family. Costs such as increasing prices on high quality food, vet bills, paperwork cost for both the CCA and the CFA, DNA testing costs they are very high and very important in both color detremination and health of our babies, costs in gas is also an important factor in promoting our babies in different areas, even the cost of maintianing a web site and the ads you've might of seen our babies in, all these factors must be considered in raising a baby to the age in which they can go to thier new family. Please also remember we do a discount off the price of 2 babies going to the same location. We love it when 2 go to the same home cats hate stress one must rember this and when 2 babies go togeather the stress in very low as they have a buddy to help them through it. And this is someone they're famliar with someone that smells like thier family adjustment is faster and eazier for the babies.
*****************************************************************************************
REGISTRATIONS;
We are informing our buyers that as of MARCH 2014 we only REGISTER our kittens in the CFA the world top registry and largest registery.
However if your a Canadian and wish to show in CANADA we will register your baby CCA for you and wish you the very best of luck. The cost to register kittens in the CCA is very high plus the extreme slowness of recieving our paper work from the CCA, has made this a very bad choice indeed to register our top babys in. We also have stopped showing in this assocation, we will now only show in CFA. We have gone as far as we can in the CCA With many Canadian Grands and Top Himalayan awards, plus Regional wins, and Canadian National wins, we have proven our line in CANADA and indeed the world...THANKS FOR UNDERSTANDING.....
*****************************************************************************************
DREAMZ is no longer providing any of our line to OVERSEA countries that have a QUARANTINE
condition for entry into their country. This is usually countries that are Islands. We have come to the conclusion that such a quarantine puts way too much stress on our babies, and we will not allow our babies to go through this.
*****************************************************************************************
Well this is COMMON SENSE and really you would think l wouldn't have to stated the following but l guess l do.. When you place a deposit down on a kitten it is yours and you must pay in full when we the seller is ready to ship. At the time of purchase we will inform you when your baby is ready to go to their new home and when full payment is to be paid. In most cases we deliver the baby to you at an agreed meeting place or we ship. If for any reason a kitten stays past that time we the seller will charge the buyer $25 a week per kitten for their care and food. l don't mind a few days delay however weeks or months is totally unfair to us and these buyers will pay the extra cost before they receive their babies. One must remember that a deposit is nonrefundable as already stated above. If you leave your baby here with us longer then the agreed time for them to go to their new home, you run the risk that your baby will be reposted for sale and you'll loss your deposit.
*****************************************************************************************
DREAMZ doesn't promote grooming products often but we are for the many buyers who ask what we use on our beautiful cats coats to keep them that way. One must be very careful some products have the wrong ph for cats fur and they can hurt your babies skin or coat, plus they can dry out the coat so much causing great breakage. And in time your great long coat will become shorter and shorter not the great Persian you fell in love with. We looked for many years and found the products right close to home. Such products can be found at PASSION FELINE and you can order them right from her please check out Isabelle's boutique at this link http://passionfeline.com/boutique.htm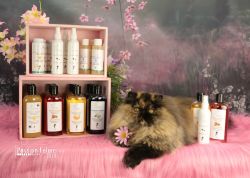 *****************************************************************************************
OUR PRICES;;

PET KITTENS; Price range go between $400 to $1,400 these are our normal pet prices anything below, or reduced or on SALE. Kittens go at lower prices when we have too many, or are too old and we wish to give them an advantage to find a loving home. Rare colored kitten usually go at the higher prices clearly due to the rareness of such kittens. Sale or Reduced kittens are those going for $400 so they can find a new home faster.

PET CLASSES
First a buyer must understand one thing here

it is the seller or breeder that sets prices not the buyers

. However in saying that here at DREAMZ we do offer the pet buyer a wide selection of prices from $400 up to $1,400 in now 4 classes. One must remember you get what you pay for in this world. One must not expect a Pet Only to be the same price as a Premium or Pet Show kitten clearly this should be a no brainier. One must also remember that a kitten from DREAMZ is a great pet no matter on the class he or she is in. Now we will explain the different groups. PET ONLY, PET, PREMIUM PET and SHOW PET. l must also state that in Canada Himalayans and Persians are 2 separate breeds. However in most associations such as the CFA Himalayans are just another color pattern of the Persian breed and are classed as Pointed Persians.


PET ONLY;

;
These are pets that can't go with breeding rights and usually go around $600 unless on sale to clear. . These are usually Doll Face. Doll Face are loved by many and indeed as l said before they are just as loving as a top Persian. Doll face should never be breed they are below the standard for both the Persian or Himalayan breeds. Please don't be fooled by low grade breeder who claim they breed these as a breed. Do your home work and you will see there is no breed as a doll face in any association. How do l know this well it is easy l'm the Himalayan Breed Secretary in Canada for Himalayans and my friend Isabelle Of Passion Feline is the Persian Breed Secretary. One must remember doll face pops out in all lines it is only a good breeder that ensures they go with out breeding rights as a PET ONLY.




PET


This class are of kittens that may also go with breeding rights at the higher price. Kittens here go for $800 and up.




PREMIUM PETS


These are for the pet buyer who wants the best looking of the breed as a pet, and realist they must pay the premium price. These kittens usually go around $1,000. Very rare colored kittens can be found in this class as well. And at a higher price can go with breeding and show rights.




SHOW PETS


Very few kittens end up in this class as usually breeders take them. However most buyers looking to have a show kitten as a pet that will give them fun in a show hall will contact DREAMZ and we look the best to give them this dream. The buyer of PENUCHI came to me and told me of her dream and indeed she got her dream and some. To see this just look at him on our GRAND PAGE he also made it to the Canadian Nationals. Her dream came true over and over again. Kittens in this class go between $1,200 and $1,400


BREEDER / SHOW KITTENS;;; Now l try as a top breeder to be as fair as l can with prices far more reasonable then most. But you know the old saying you can't please everyone is very true. Traditional colored Kittens in this price start at $1,600 and Visual colored kittens start at $2,000 and up. Visuals are such rare colors as Chocolates and Lilacs, Prices will be NO LOWER unless you have bought one from us before then we will give you a discount.Our stock have such lines as Playwickey, Lake Hyco, Catta, Zazzles, Stepp'nStone, Passion Feline, Jude, and Perrty Katz


DISCOUNTS;;; Are given on a second kitten purchase at the regular priced. On a pet it is $100 off the second. However that is only on regular priced kittens, sale or reduced kittens will not receive a further discount on the second as that it called double dipping and not permitted. Breeder's discounts are higher but must contact us for that discount.


ADULT BREEDER / SHOW CATS;; Yes from time to time we have full grown adults available for breeding and show. They usually go with Canadian Championships on them and some proven. Usually it's males that come available.Their price is $2,200


AMERICAN BUYERS;;; Can now buy in CANADIAN DOLLARS however 2 things.. First if you the buyer screws up and sends in US funds well sorry, DREAMZ will not go through the paper work to figure out the difference that you sent in excess. Secondly the shipping cost will be in US funds as we ship out of the States we cross over to do so.


SHOW ALTERS;; Yes we do sell many top kittens as pets and many can be shown as an altered. But if you want that special baby to show and has fun with we do spick suck kittens and the price for such kittens are $1,200 to $1,400 with both CFA and CCA papers.
*******************************
Email: benlynn20012000@yahoo.ca

©2005 Dreamz Himalayans & Webdesign Passion Féline.
Exclusive copyrights, graphics and content. Forbidden distribution and reproduction.
Photos on this site are the exclusive property of the respective photographers.