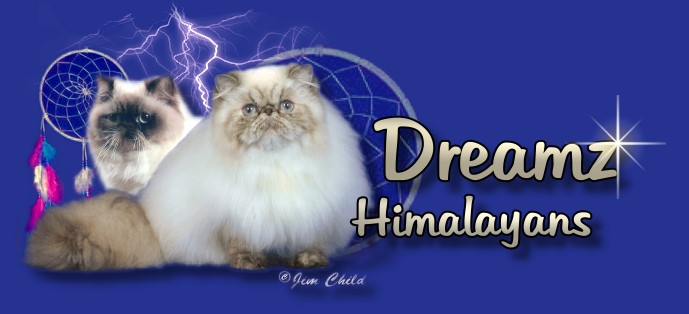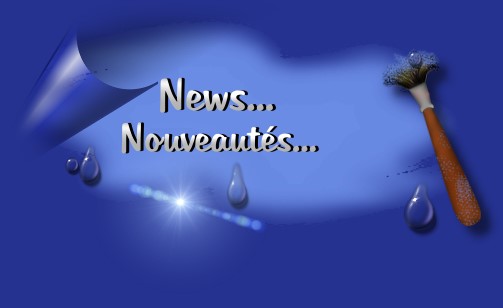 Email: benlynn20012000@yahoo.ca
************************************************************************************************************
WARNING WARNING WARNING WARNING
It has come to our attention that some dirty breeders are posting videos of their cattery some in the Toronto area. Indeed they seem clean so looks great, right? God WRONG think about this their cats spend their live's in cages and one room with some one coming in to feed them and clean them. SHAME, SHAME, on these dirty breeders. How cruel can they be? Here at DREAMZ our cats have the free run of our home and indeed their home. They eat, sleep, play, and even watch TV with us. The only time we use cages are to protect our babies from harm from other cats until they become large enough to join the group and run and play. And our nursery cages are 8 feet long. Now think about it what kind of a kitten do you think you would get from a cattery that keeps their babies in cages or one that they play and run through the house. Well l'll tell you what our buyers say our babies are extremely friendly and loving while a baby from a cattery that cages their cats and keep them in one room these kittens hide all the time and are not adjusted to people or even other animals. They are very poorly adjusted and rarely make great family loving pets as our babies at DREAMZ are. Our babies at DREAMZ love attention and to be loved. Too bad these catteries that show their cats locked in one room in small cages just don't get it and SHAME on them. One of these breeders when she is done with her cats she just puts them to sleep. My God what a nasty person. At DREAMZ most of our older cats die here with us from old age the way it should be or we place them with someone we trust to love them, if you truly love your cats in the first place this is the kind loving way to be.... God it makes us at DREAMZ so sick knowing there are nasty breeders out there SHAME on them....
************************************************************************
Well long in waiting but the wait was worth it. DREAMZ is very pleased to announce the new arrive from Italy MIRO' CE' EL DANTE of DREAMZ. This body has an amazing head structure to give our Chocolates and Himmys a much larger head. Watch for him at a show near you. A great thank you to D PELLICANO-M THIRION of MIRO.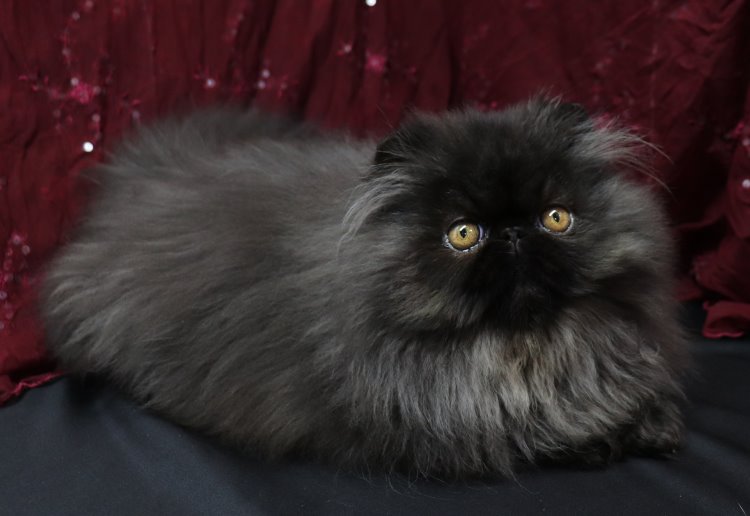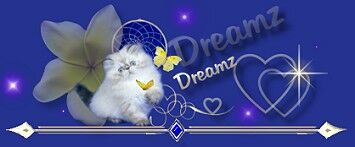 ************************************************************************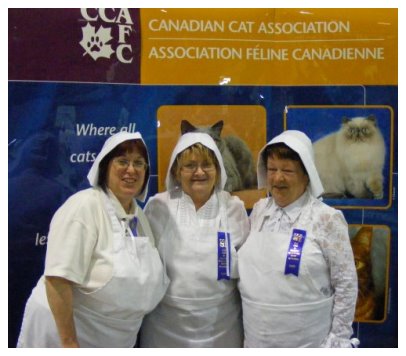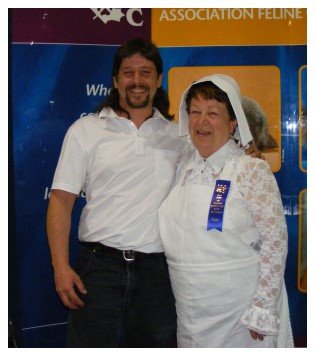 The past few months have been so hard on DREAMZ with the passing on Ben's Great Aunt MARGO. For a few years now Margo's health hasn't been the best and with her not being there the spark of the shows for both of us has been dimming. Here below is the notice Le Club Feline De Montreal placed on their back cover of their programs many thanks to their club in showing such great respect to Margo and her family. .Margaret Gadouas besides being related to Ben was a close friend of mind she was a grand lady and was always interested in what anyone had to say. Actually our first Grand Champion GC.DREAMZ GOLDEN DAHLIAS was named after Margo's cattery Dahlias so part of her would be in our pedigrees forever. You will also see photos of Margo in happier times years ago. She along with 2 of her good friends are dressed in turn of the Century costumes. It was funny every time someone would go away she would turn to me and say look at what to hell they got me in now Lynn. And the whole time she would have that little cute smile of hers so l knew she truly loved all the attention she was getting. Margo just wasn't an important part of our family but an important part of the CCA family and her club, Le Club Feline De Montreal. Holding many important offices and positions over the years.. Margo loved her family so much and her cat family just as much, she will be missed for a very long time. Well Heaven truly has an Angel now. RIP my sweet angel keep a place for us dear. Margo joins our MEMORIAL PAGE with many of her dear friends...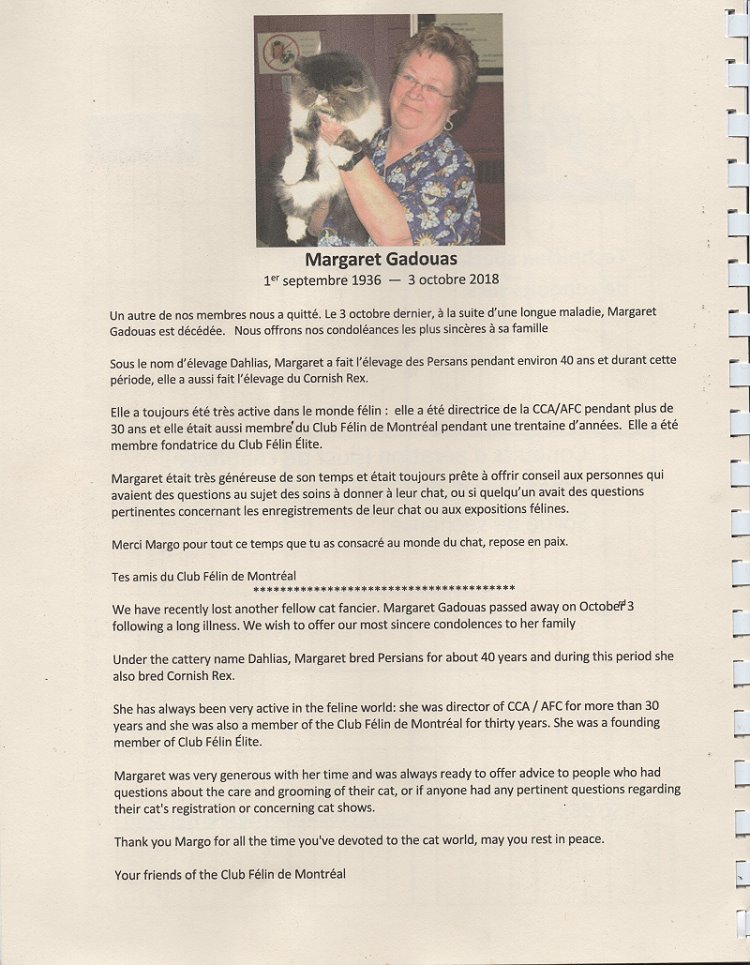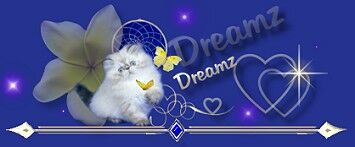 Well thought l would look over the Canadian National listings for fun to check on Oreo. Well even though l wasn't told Int.Ch. DREAMZ OREO is 2017-18 Second Best of Breed. Now we'll take that at least as being in a new color class in the CCA it was very hard to show him knowing full well he would be dumped in most rings. For Oreo today well he is still trying to get this sex thing but we're hopeful he'll pop out a nice Chocolate Bicolor our friend Dianne just did that, Congrats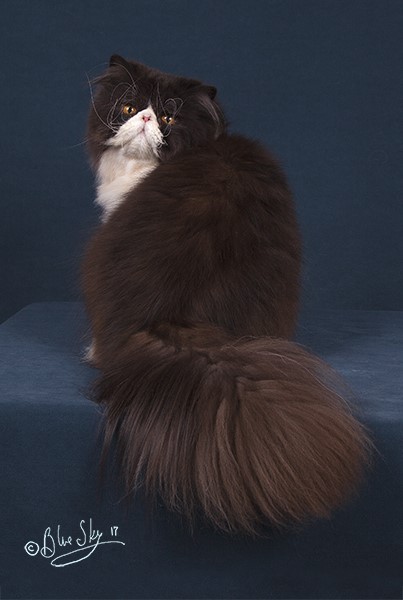 ************************************************************************
A great evening at the CCA Awards Gala with Susanne Tessier & Bernard LaCasse accepting the award for their baby SMGP.DREAMZ PENUCHI CNW & RW SO PROUD OF YOU BOTH WE HAD A GREAT YEAR WITH YOU BOTH. Now Penuchi received the award for 8th best Canadian Altered, plus the BEST RW in Quebec Plus he is the highest scoring Himalayan in the Altered Class in 2017-18 And your dream truly came true right Suzanna. She wanted a pet she could show have a lot of fun and some awards, we at DREAMZ are so proud we could make her dreams come true.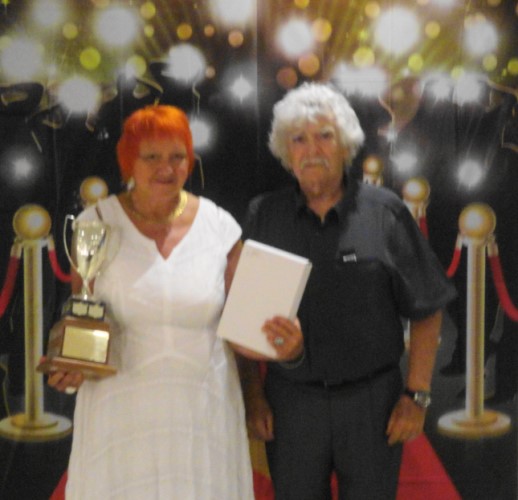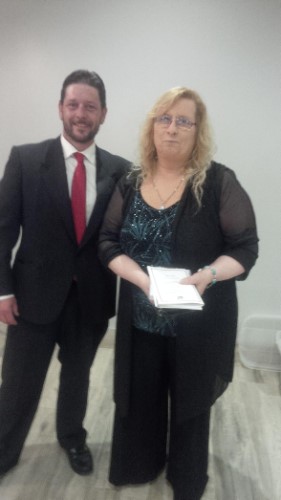 ************************************************************************
We are so please to congrats our dear friends Susanne Tessier and Bernard LaCasse the owners of SMGP. DREAMZ PENUCHI a beautiful Seal Point male so wonderfully shown to 8th BEST ALTERED in CANADA 2017-18 show season and BEST ALTERED IN QUEBEC RW. We are so proud of them here at DREAMZ and look so forward to seeing you both at the awards dinner next weekend.So a little behind the scenes First Penuchi's great parents are SMGC DREAMZ DREAM BEAU CNW & RW and his dam is GCH.DREAMZ PEACHY KEEN a beautiful Chocolate Tortie point. Penuchi's grand dam dam of Beau is the great GC.PLAYWICKEY'S MEGGA RUSH of DREAMZ.
Susanne followed us in the CCA shows and loved Beau and indeed all of DREAMZ babies. She came to me and asked if l could supply her with a kitten to provide her with her dream of having a baby to win and have fun with. Well l think DREAMZ came through and gave her a baby to reach her great dream and way beyond.
To give even more behind the scene When Beau's dam Meggie came to CANADA we showed her in Ottawa and Bernard's sister Michelle LaCasse judged GC.PLAYWICKEY'S MEGGA RUSH in 2005, and loved her pulling her into her final. As l left the judging circle she pulled me aside and said l hope you go on to breed her.
A few years after that the CCA family was greatly sadden by her passing. And Meggie went on to give us BEAU our first National winner and indeed 2009's highest scoring Himalayan in CANADA. And Beau went on to provide Susanne and Bernard their baby boy. Isn't a funny way life goes on. l always find this unfolding events very interesting at DREAMZ and can only see it as Michelle looking down on us with a great smile.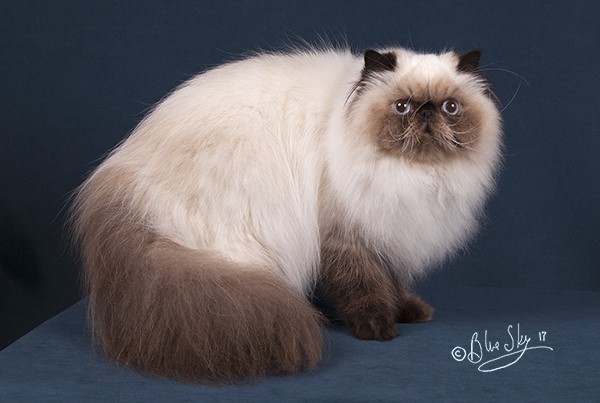 ************************************************************************
Here we are in Laval Quebec at the Christmas show with our friend Suzanne Tessier and Bernard Lacasse.
Here they were receiving a QUEBEC REGIONAL AWARD for the 3rd BEST ALTERED 2016 just amazing.
Thank you Suzanne for giving us a great gift of a copy of the award THANK YOU for everything. MERRY CHRISTMAS our dear friends see you soon in KINGSTON 2018.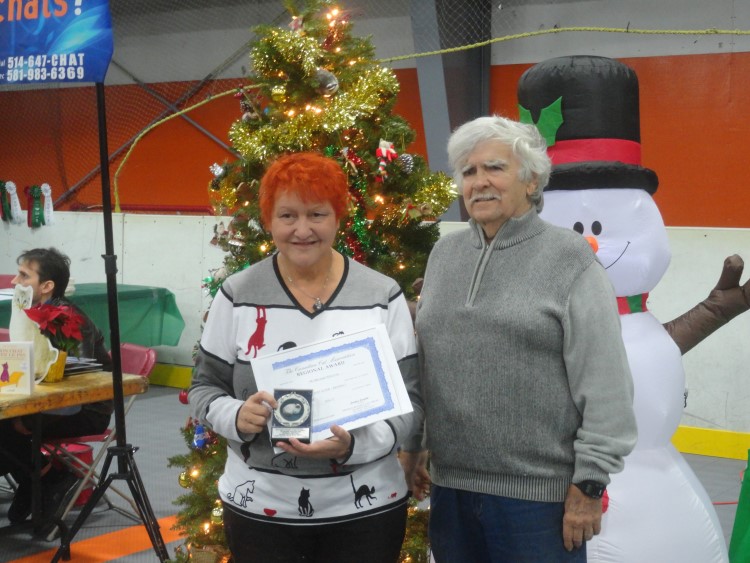 ************************************************************************
News on GPR DREAMZ PENUCHIE well he just keeps raking in the points in a total of 4 associations now CFA, CCA, TICA, and now in CFF. His Sire is SMGC DREAMZ DREAM BEAU CNW & RW his dam is GC.DREAMZ PEACHY QUEEN and his great grandmother is GC.PLAYWICKEY's MEGGA RUSH of DREAMZ. At his latest show in the CFF well he is a Primer plus got many points towards his Grand Primer no wonder he got every final in the 2 day show in the top 4 each ring. He is also in the Regional Quebec awards way to go Susanne Tessier so proud of you guys. Some many awards l'm having a very hard time keeping up with him and his new mom. We'll see you guys in Laval.. CONGRATS WE LOVE YOU....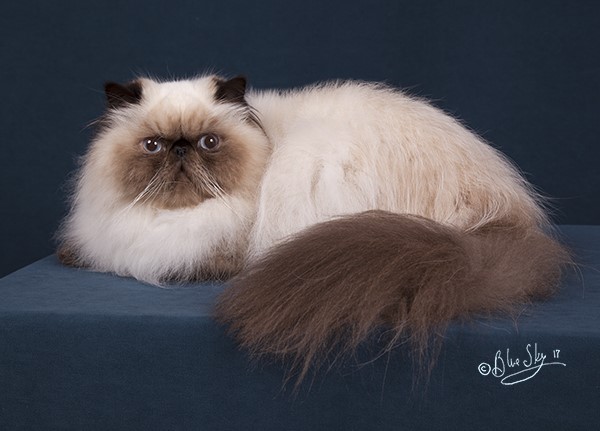 ************************************************************************
Well the gang is all here at the CCA show in Toronto. From right to left l'll state who it is and the cat their holding with their new title.. So right we have Ben Seguin of DREAMZ holding INT.CH.DREAMZ OREO Canadian Grand pointed. Oreo is the first Bicolor Non Pointed to receive his championship plus grand pointed in CANADA. Next to him is my niece Jade Amber Marie of DREAMZ holding CH.DREAMZ CHOCOLATE THUNDER a Chocolate sold Persian male. Next we have our dear friend Brenda Frame holding INT.CH,DREAMZ MUD PIE of Zazzles Persians also Canadian grand point she is a rare Chocolate Mac Tabby Persian.Next is myself Lynn Seguin of DREAMZ l'm holding CH.DREAMZ CHOCOLATE LIGHTNING also Canadian Grand Pointed Lightning is a very rare Chocolate Smoke Persian There has been other Chocolate Smoke Persians but l don't believe one has gotten Grand Pointed in CANADA. Watching for Lightning and Oreo in up coming shows.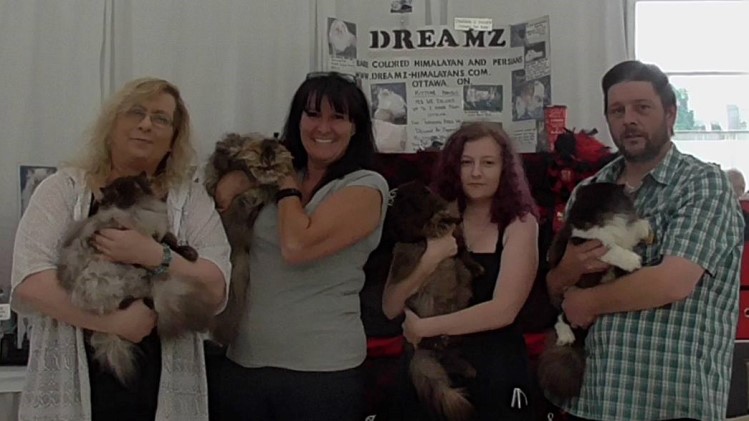 ************************************************************************
Well a great weekend in Belleville, Ontario the CCA show June 24th, & 25th 2017. This photo was taken by a member of the CBC who are making a documentary on cat shows and the people at them. This will air this Fall on the CBC and yes we are on it. As you can see we were celebrating GPR.DREAMZ PENUCHI their great baby's Grand Premier. By the way taking the photo is one of the crew from the CBC who also interviewed us all for a documentary on cat people and cat shows. Even though we made a mess with the cake it was a great day. And us at DREAMZ had 2 more of our babies now Int.Ch.DREAMZ OREO Canadian Grand pointed. and INT.Ch.ATHENIA.Canadian Grand pointed. We are so proud of Suzanne and Bernard and their baby Penuchi. And thank you to all our fans who saw us there. Too bad my niece couldn't make it she was missed by her friends Hayley. It was great fun for everyone. PENUCHI also went on to receive 3rd BEST ALTERED on both the Saturday and Sunday. Congratulations to everyone.
And then CH.DREAMZ OREO also received his Championship making him the first Bicolor Non Pointed to receive his Championship in the CCA in CANADA, That's not it yet Oreo also went on to receive a final in Hayley Boam's ring Making 2 more firsts. So Oreo is also the first Bicolor to get CANADIAN GRAND POINTED and Hayley the first judge to pull him up into a final. Come on now that's a very fair judge, judging the cat on his type not his color. l've always had respect for this judge but now even more. THANK YOU HAYLEY....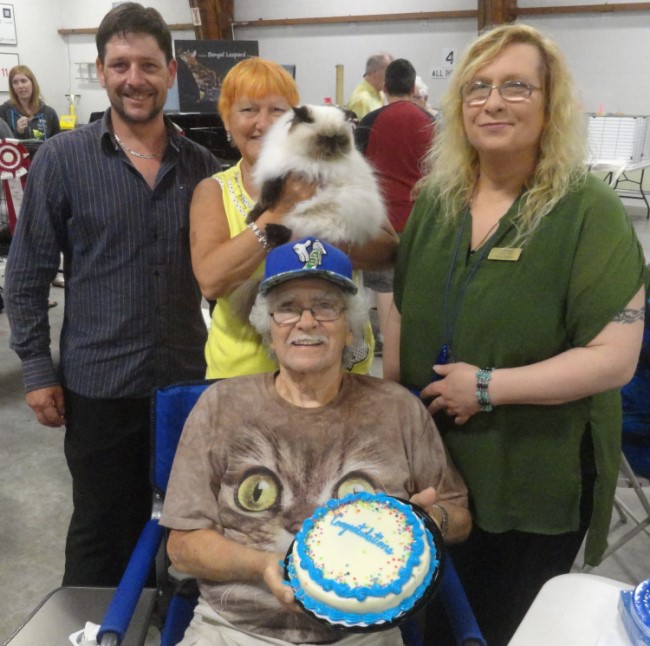 ************************************************************************
Our 12TH GRAND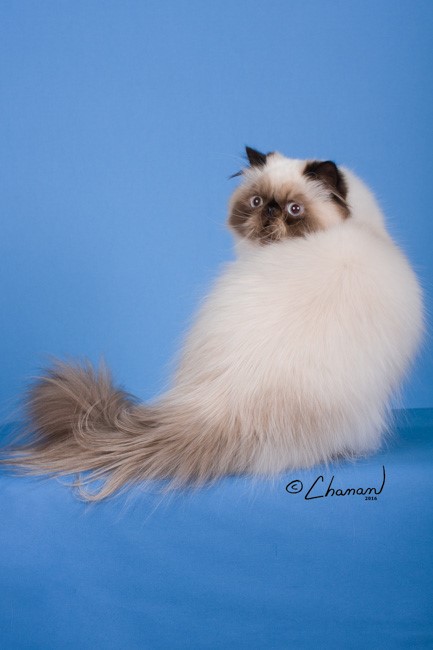 SGCA Dreamz Penuchi
Plus CCA PR. & CFA PR. INT.PR.
SEAL POINT HIMALAYAN NEUTERED
Sire - SMGC. & INT.CH. DREAMZ DREAM BEAU CNW & RW
Dam - GC.DREAMZ PEACHY QUEEN RW
So proud of Bernard and Suzanne Tessier for showing their baby Penuchi so wonderfully. They have shown him in CFA, CCA, and TICA. Doing amazing in all associations, l'm sure their will be many more titles to come. Suzanne came to me wanting a pet that she could show and have fun. l knew which little boy would give her just that. Many of DREAMZ pets are able to do very well in any show hall and this beauty sure proves that. Say hi to them and their baby at a show near you. DREAMZ is also thinking of showing in TICA some judges just loved this boy and had asked Suzanne about DREAMZ. Congrat to both of you and give Penuchi a big hug and kiss from DREAMZ...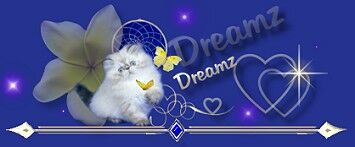 ************************************************************************
Well DREAMZ was at the CCA show at the Toronto, Ontario CNE so many people came to see us and the cards we gave out were amazing. We had 2 Non points that got their Championship CH.DREAMZ CHRISTMAS DAHLIAS a Blue Cream and CH.DREAMZ MIDNIGHT AFFAIR aka STAR a Tortoiseshell who besides her Championship went on to become CANADIAN GRAND POINTED she got every final. Our niece was with us Jade not only to help but show her first baby CH.DREAMY CHOCOLATA a Chocolate Point female.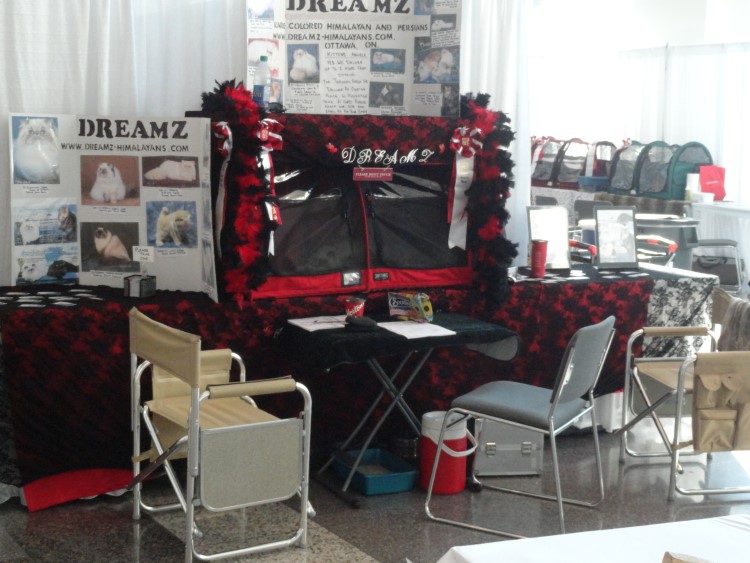 ******************
Well long awaited is a litter of Bicolors from ZAZZLES PANDORA of DREAMZ to GC.STEPP'NSTONE'S CHOC'LAT DRUMMER was born on July 31 2016. Photoed here is DREAMZ ROYAL GEM, she is a very rare Chocolate Calico. Just an amazing girl without saying she'll stay at DREAMZ.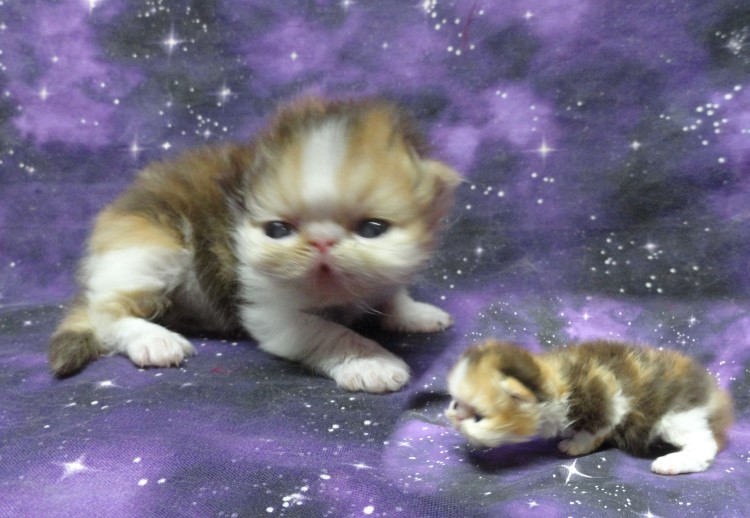 ******************
Long awaited and so proud of our new arrival at DREAMZ from our good friends Sue Williams andKerry Williams in BC SCAATYCAT IMAGINE DRAGON [Victoria] a Lilac Cream Tabby and her mother SCAATYCAT A HULA GIRL AT HEART Chocolate Tortie Lynx point [Tessa]. Both are settling in Tessa being older will take time. We thank you both for 2 very rare sweet gems. Can't wait to show Victoria. By the way to let every know Tessa is the daughter of DREAMZ AVATAR of SCAATYCAT and Victoria the Grand daughter, now how cool is that.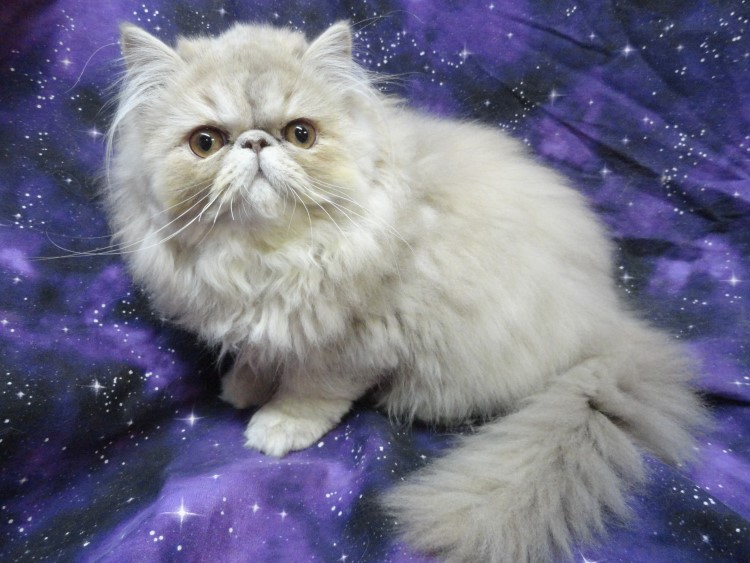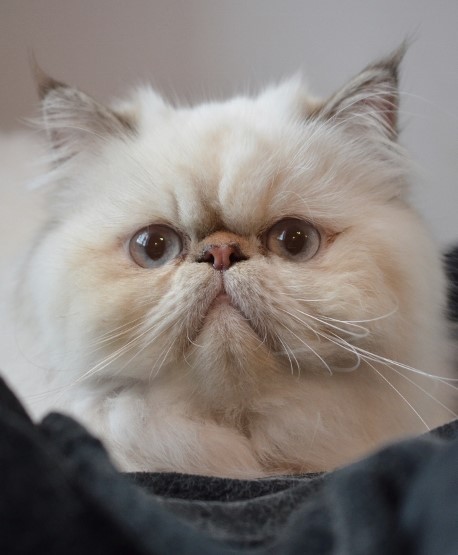 ******************
Well it is with such great honour and please to announce the CFA PREMIERSHIP of DREAMZ PENUCHI this beautiful Seal Point boy was showed so wonderfully by his new mom and dad Suzanne & Bernard Tessier at the CFA show in Concord, NH. Here he was up against 49 Alters and he held his own so wonderfully. He received 6 finals in total and 3 of them he received BEST PREMIER.. His sire is SMGC.DREAMZ DREAM BEAU CNW & RW and his dam is GC.DREAMZ PEACHY QUEEN. Without saying we are extremely proud of them all. Give PENUCHI a big kiss and hug from us Suzanne. l'm sure they'll take him out unto his Grand Premier and no doubt they receive it.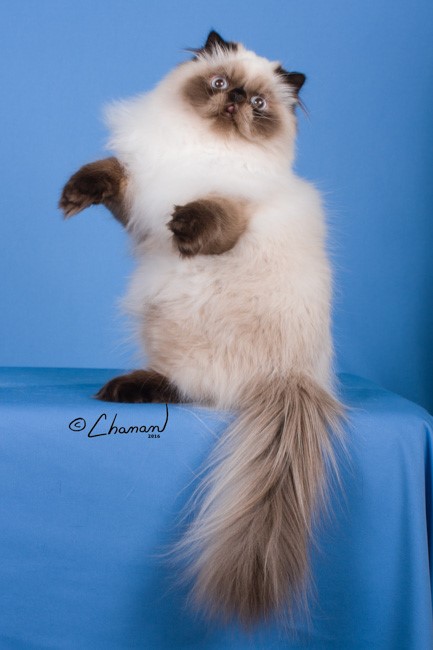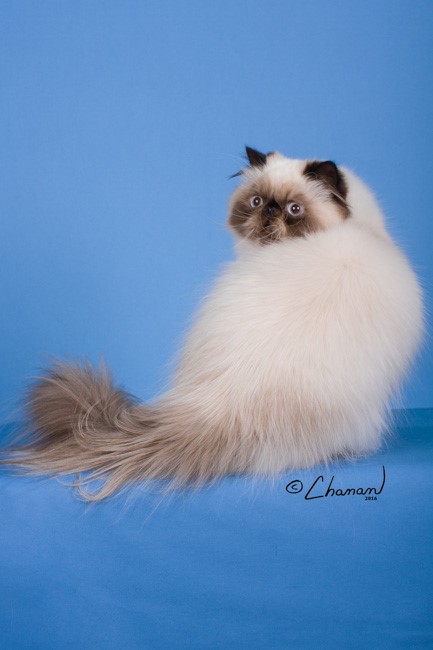 ******************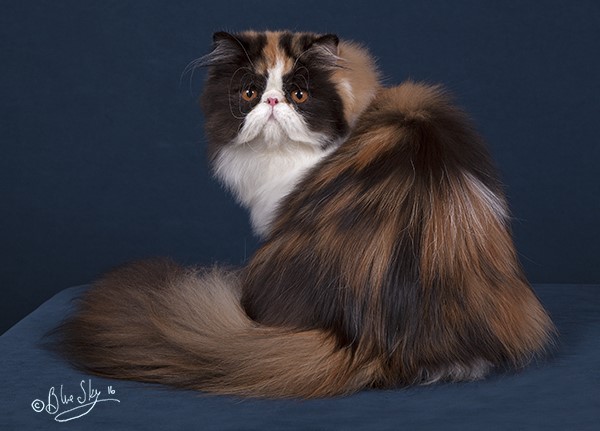 Well what started out to be a fun great weekend at a CCA show in Ancaster, Ontario turned very fast in the first ring to a dam dirty nightmare. We took our Grand Champion girl to the show hope for a few points but realized that we might not get anything as she is very badly out of coat due to 2 heats. So l thought it would be fun for us to bring Frankie along to get her a Championship title. Now Frankie is a beautiful Calico that carries Chocolate and will give us the Beautiful Chocolate Bicolors, Chocolate Calicos and Lilac Bicolors etc. And l'm well aware these color are not accepted for Championship status in the CCA, however l didn't realize that the Calico would be in that boat as well. So l registered her with the CCA and got her number remember she should not of gotten a Registration number as a Non Pointed Himalayan she is not accepted for Championship status in the CCA. Now to make it worse the Entry clerk accepted her for entry in the show and why would she not l have a CCA number and why would l think anything was wrong.
Well hell broke out in the first ring when l was clearly told that is a mistake and we just pulled her from competition and will reimburse for your entry fee. Well isn't that kind of them considering l only went for this cat as l knew my other wouldn't do well and one must consider we traveled 6 hours to this show my time is more important then the money.
Well funny how this color is accepted in the CFA the world's largest association but not in the CCA, guess l'll show them in the CFA seeing they'll take my money and are with the more modern times. But they haven't seen the last of me with these color and l will do my best to get them accepted. But the show wasn't a total lost as we met our good friend Brenda Frame the breeder of Frankie and we got some great photos of her. Guess we'll now cut down the amount of CCA shows, until they accept this color group. You'll see DREAMZ more at CFA shows showing these beautiful Chocolate/Lilac factored Bicolor until and if CCA get these beautiful colors accepted for Championship Status.
As with Chocolate/Lilac breeders before us no association will dictate what colors we include in our breeding program.
******************
And here is our very beautiful little sweet heart, ZAZZLES PANDORA of DREAMZ aka Frankie. Well Frankie's mother is one of our Chocolate girls that we placed with Brenda Frame who bred to one of her Bicolor boys. There fore Frankie carries the Chocolate gene. We love this sweet girl and that you Brenda for such a wonderful girl.Frankie will give us Chocolate Bicolors, and Chocolate Calicos as well as Lilac Bicolors. We are so blessed to have this girl to start our Chocolate and Lilac Bicolor program, thank you again Brenda our dear friend.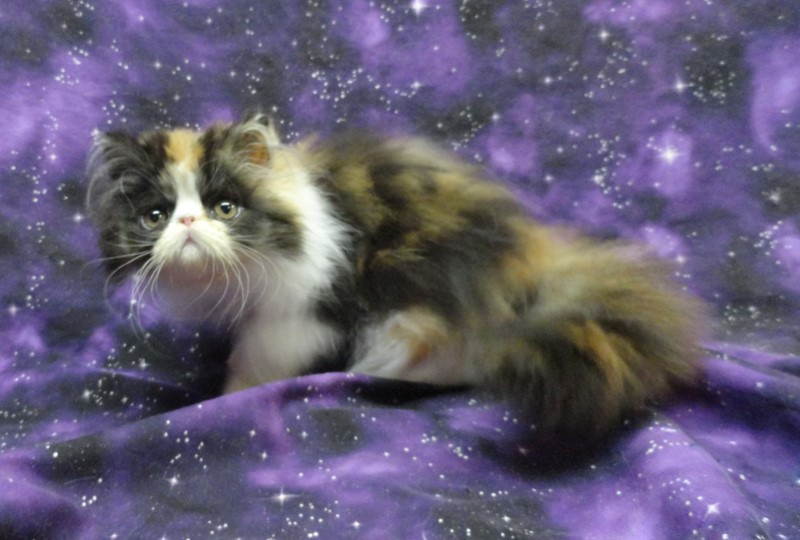 ******************
Well first off is our boy DREAMZ CHILLI PEPPER a Cream Smoke that carries Chocolate. Chilli isn't much of a looker but Chocolate breeders just can't always be picky. Chilli has the Chocolate gene so will be the foundation to our Chocolate Smoke program. His litter sister is our fast climbing CH.DREAMZ SAD ANGEL. So the type is in the family just hope it shows up in the next generation of Chocolate Smokes and Chocolate Smoke Torties.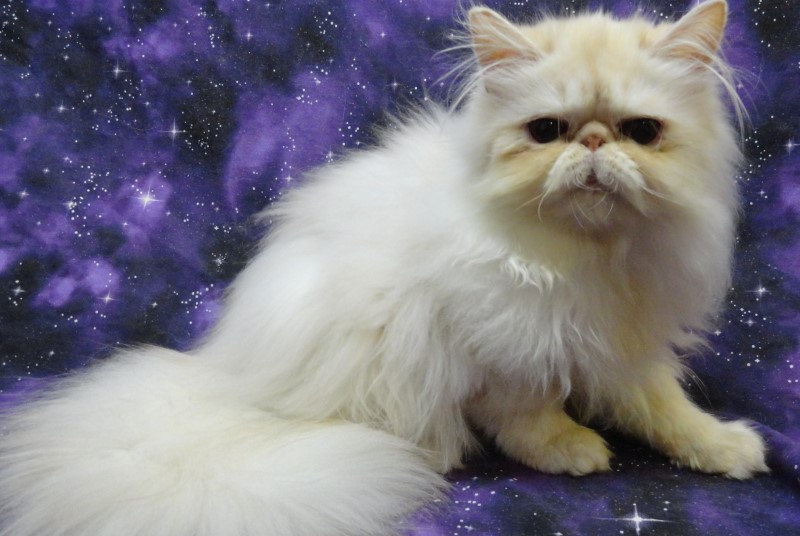 ******************
Our new girl CH.DREAMZ SAD ANGEL is a very big hit in the 2 shows she's been in she has done great. Watch for her in a show near you. In Ottawa at the first day of the CCA Halloween Cat show our beautiful Black girl CH.DREAMZ SAD ANGEL did amazing in Christine Ling ring thank you so much Christine. She received 4th Best in her All Breed final and 1st Best Longhair in her Specialty ring. And Best Champion. And on the Second day of the CCA Ottawa cat show Nov., 1st the Halloween show is over for another year. Our Black girl CH.DREAMZ SAD ANGEL got every final today way to go thank you so much to each judge for loving her so much. First there was Terry Farrell who gave her 8th Best, Kathy Balmer gave 8th Best as well, as her 3rd Best AB Champion, and 2nd Best Long Hair Champion. Diane Moreau 4th Best in her final, Best AB Champion and Best Long Hair Champion. And Hayley Boam gave 4th Best in her final, and 2nd Best Champion, Best Longhair Champion. We were with my niece Jade Amber Marie at the show.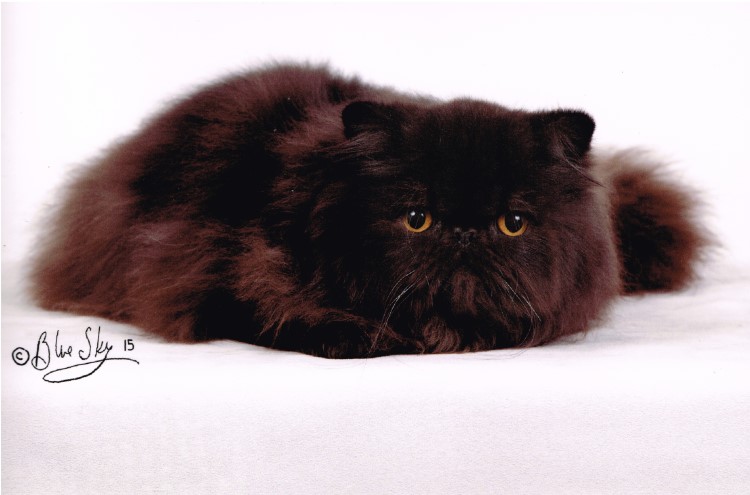 ******************
GREAT NEWS our 10TH GRAND CHAMPION
Well our GC.& INT.CH.DREAMZ STYX is our 10th Grand Champion even more important we believe he is the first Chocolate Lynx point to grand in the CCA. It's too bad they don't keep better records but l believe he is the first. We are so proud of this very sweet boy.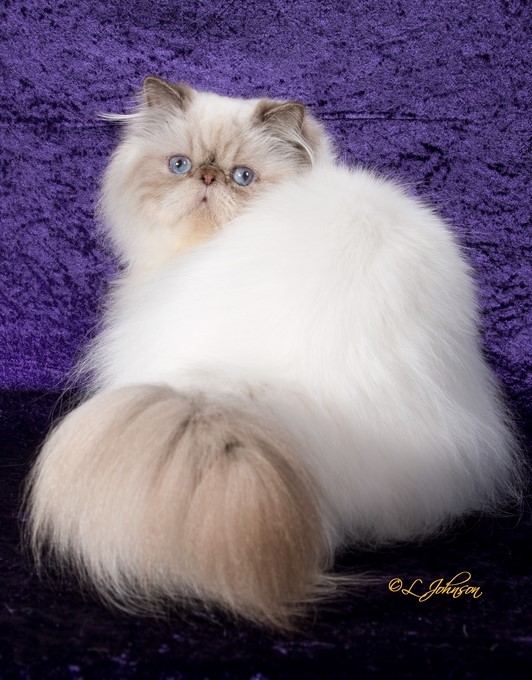 ******************
NEW ARRIVAL!
WIntroducing the arrival in the SPRING 2015 of this great Chocolate Tortie Scaatycats The Legacy of DREAMZ we are sure she'll live up to her name. Her sire is the great AVATAR this boy went to Sue's to help her and he live up to that. This girl has the great GC.LAKE HYCO BROWN THRASHER of DREAMZ in her pedigree. We hope to match her up to SMGC.DREAMZ DREAM BEAU CNW & RW. Beau is the son to THRASHER, this match will keep Thrasher's line alive. A great thanks to Sue & Kerry. Love Lynn & Ben....
Introducing (arriving in the Spring at Dreamz).. Scaatycats The Legacy of DREAMZ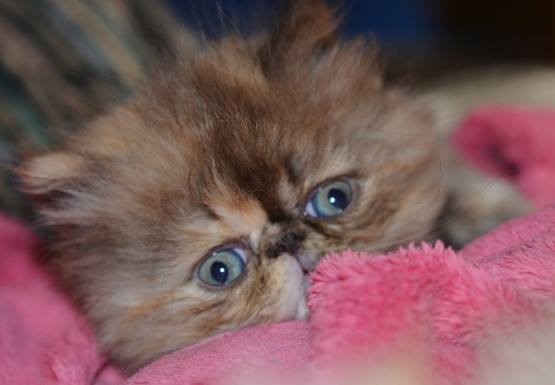 Well here we are at the Ottawa Valley cat show Nov., 2014 not only were we showing our babies put we were also vendors selling our paintings and prints sold a few. But our boy STYX is almost a Canadian Grand our next show will be in KINGSTON ONTARIO going to be fun.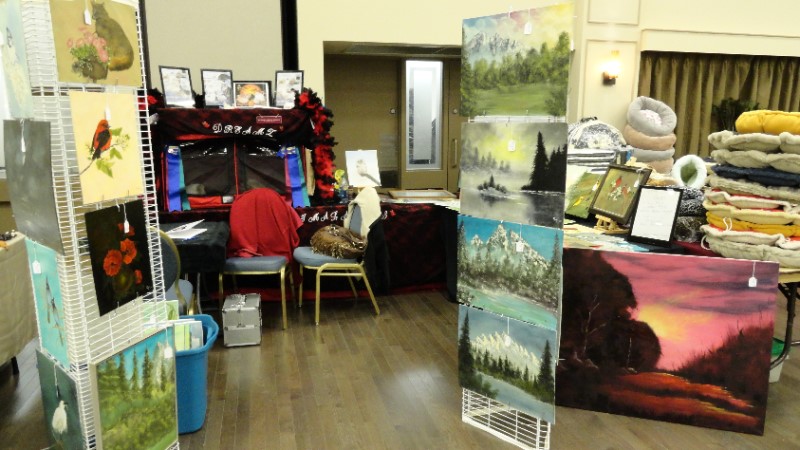 ******************
My head in spinning from all of this at the same time. First thanks so much Diane DREAMZ SNOW POPPY of ALFENLOCH you sure did great. But we both knew he was heading to greatness. Now first l would like to thank and congrats to Zina White, as you already know l love your boy so much, he reminds me so much of some of my babies as his grand sire is still breeding here at DREAMZ. And the news of DGC ALFENLOCH MOCHACHINO of SHEIKSPURRS sired by the very extreme Chocolate solid DREAMZ CHOC'LAT CHIP of ALFENLOCH for the Best Kitten in the TICA SC Region. l join Diane in our CONGRATS of this baby's great win. Also with DREAMZ in the pedigree. It is a very special note here that l must add here that DREAMZ SNOW POPPY of ALFENLOCH comes out of the CATTA bloody line the owner GERTRUDE LACROIX was a dear friend of ours and past away some years ago, plus her girl CH.DREAMZ PETITE DALHIA who is the dam of Snow Poppy and the grand dam to Zina's boy has past away a few years ago. My only wish is that both can see this greatness. Rest in peace my dear love ones. A memorial to Gertrude can be found on this site.
Also late in coming CONGRATS to Sue Swaim for having the 5th Best Himalayan in The Atlantic Himalayan Club 2013-13 for GC. RW. A KITKAT COWBOY CASANOVA of RISTOKAT his sire is CH. DREAMZ WILLY WUNDERBAR of A KITKAT. CONGRATS dear over due on this great baby.
And for our Canadian National winner and 2 Regional wins.
******************
Well here we are at the CCA Awards 2013-14 where DBGC.DREAMZ AUTUMN GOLD received 4th Best Nationally, 3rd Best Regionally and 2nd Best Himalayan in CANADA. And GC.DREAMZ PEACHY QUEEN received 14th Best Regionally award. We're very proud of our beautiful babies.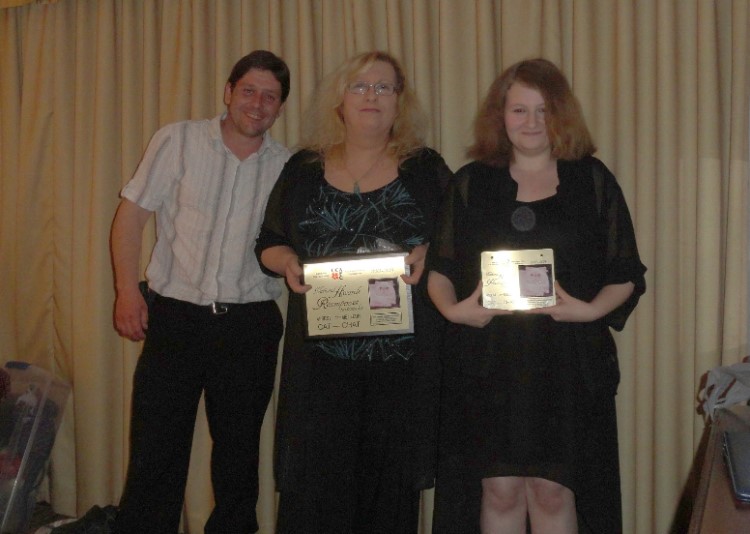 ******************
Here is our niece JADE enjoying the great Awards Dinner at the CCA Awards in Bellville, Ontario 2014.
With our great friend Hayley Boam one of the CCA judges. What a great weekend.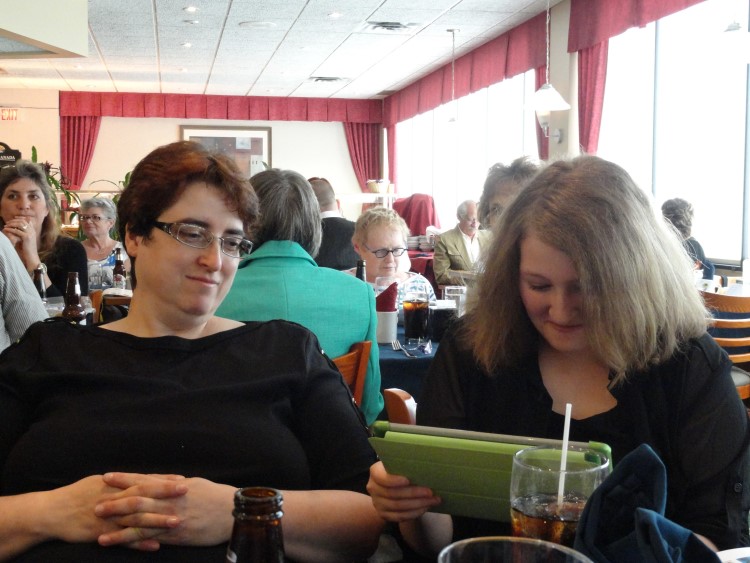 ******************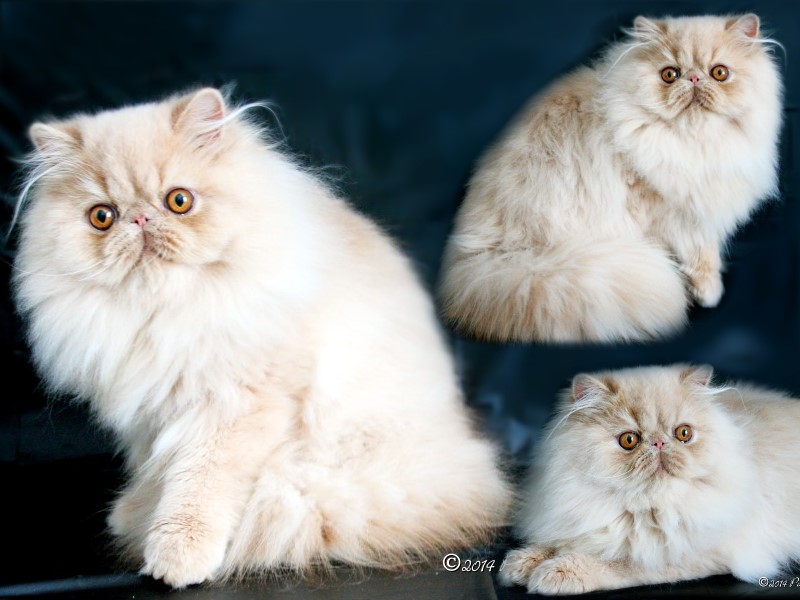 Well here is some surprizing news to present the soon arrival to DREAMZ of a beautiful top pure Persian. Yes that's right a pure Persian CREAM boy. Out of our dear trusted friend's line PASSION FELINE. His name is PASSION FELINE'S CASUAL AFFAIR aka CASS. Casual Affair is the name of a very famous Cream point Grand Champion, from the 1980's out of the Khaszar line. His boy's parents are GC.PASSION FELINE PADDINGTON and CH.PASSION FELINE TSUNAMI, we feel that Cass looks very much like his great father at his age. We trust only a few breeders to buy from as most already know we have very few outside cats in ourline. Such cats are thought to be of a great help to our line which is why they are brought into our line. In the case of this boy we wanted to bring in a stronger PERSIAN look into our Chocolates and Himalayans. Being a Cream he brings in both the Dilute gene, and red factor. And depending on which female he matches with we'll
get hopefully a strong Persian looking carrier that will have the pointed gene and / or the Chocolate gene. We will also be able to produce solid Chocolates / Lilacs that don't have the pointed gene. So he'll bring into our line a new way to take our program. His arrival will be in a few months, great thanks to our dear friend Isabelle of PASSION FELINE, hope all your family have a great Christmas.
******************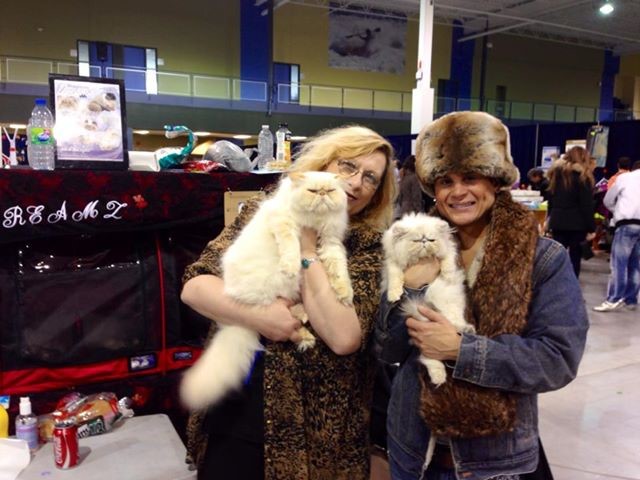 Well our boy didn't do great in MONTREAL Quebec CCA Christmas show but done of my cats have ever done good in this show. The best part of the show was seeing our good friend RAPHAEL MELO owner of the COR DE ROSA cattery in Quebec. Seeing you dear friend was the best part of the entire weekend. And the beautiful baby Raphael is holding is our new little surprize baby DREAMZ MAGICAL MORGANA a possible LILAC CREAM LYNX point we'll be doing a DNA test shortly. As well as the judging of Debra Isidorio she finalled both of our babies PEACHY recieved 8th Best and her love of my very solid girl was just a high point of the show. And Autumn recieved 3 Best in her ring. So even though we didn't do great we still did well. Thank you to the judges that judged fairly for the cats and who saw are beauties for what they are. THANK YOU.
******************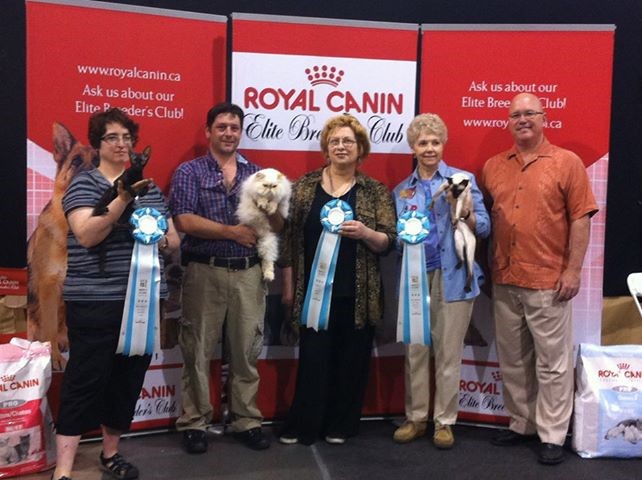 Well here we are at the CCA Brockville, Ontario show July, 20th 2013 with CH.DREAMZ AUTUMN GOLD receiving BEST of the BEST #1 in show. Way to go Autumn, photo taken by my Sweet Niece JADE.
******************
Well here we are at the AWARDS night for the show season 2012-13 for SMGC.DREAMZ POSEIDON CNW & RW this beautiful Chocolate point was the highest scoring Himalayan in this show season receiving number 3 in the Nationals and number 3 Regionally. This is a great achievement for any Himalayan let along a Chocolate point. Go Chocolates go.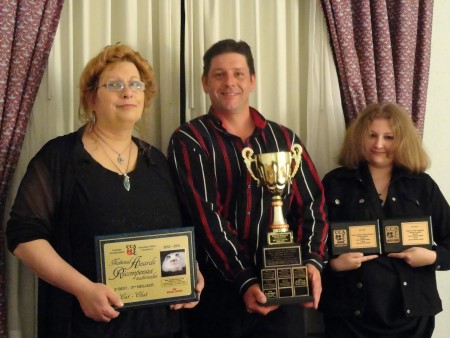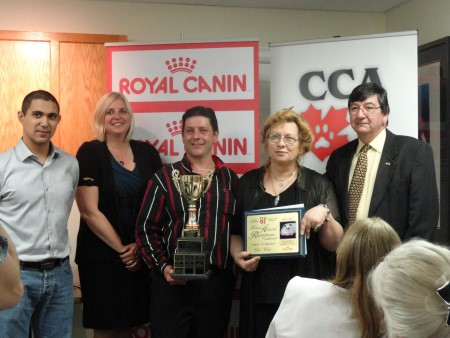 ******************
On June, 15th, 2013 at the CCA show in Cobourg,ON. CH.DREAMZ AUTUMN GOLD recieved 3rd Best of Best show award. So proud of this boy. Photo taken by our niece Jade thank you dear.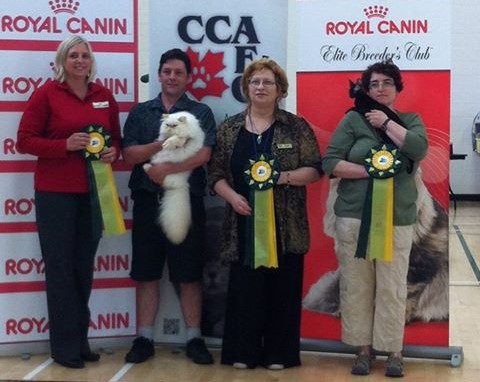 ******************
Well as many know we have supplied a new cattery with many of our top cats for to start up her line, here is a link to her cattery;; http://www.degorgeouscattery.com/default.html Vickie Yaets has so many of our cats l call her my Mini Me. Right now both Pandora and Cover Girl has a litter just born. Congrats Vickie l'm sure your long trip up here was well worth it. And our beautiful Red Chocolate CH.DREAMZ AUTUMN GOLD will be fling down to her in April, 2014. Congrats dear on the development of your line showing and proving that we share our best, with new breeders.
******************
Well Vicki & Larry Yeates made a great trip up to Canada to pick up several DREAMZ baby. It was a nightmare to try and ship so many by Air Canada. First we had to deal with a very limited shipping date of 1 month the month of April only. You see most of the time it is too hot in Texas and in Canada for a few months it is way too cold. Then comes making such a long flight before the customs office closes in Texas, therefore the cats would have to spend over night in Toronto to make the first flight out into Texas. And with a larger number of babies going on this trip it would be, safer and cheaper for the Yeates to make the trip here. For their DREAMZ babies they were willing. It was wonderful meeting the Yeates up here in Canada, what an aventure for them. They hae enough of our stock to be a mini me. This makes it much eazier now for buyer in Texas to get our stock, in such rare colors. We are so trilled and happy that the Yeates love our babies so much that they drove such a long distance to ensure they're safty. Thank you Vicki & Larry.
******************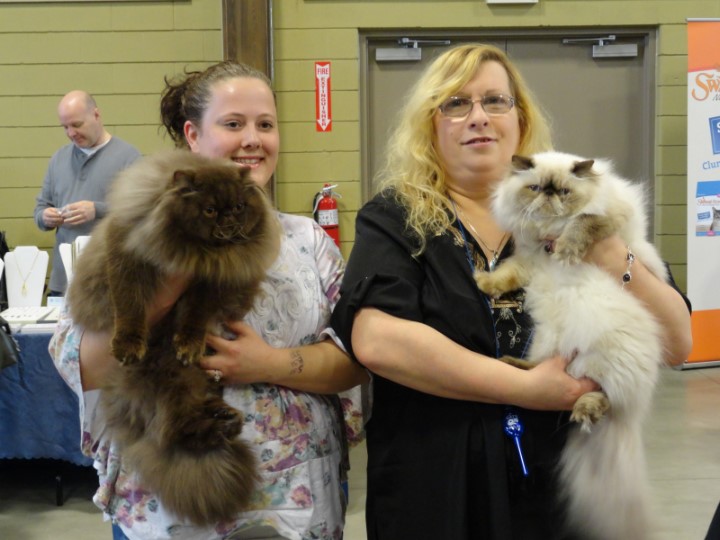 Well here we are at Hamilton, Ontario 2013 with Caitin Winn our friend with our 2 top Chocolates. Can you beleive it both of our boys are doing very well in CANADA.
So on the left hand side we have Caitlin Winn holding GC.HEART'NSOUL'S SEXY N I KNOW IT a very beautiful Chocolate Solid. And myself holding Lynn Seguin holding MGC.DREAMZ POSIEDON Chocolate Point.
******************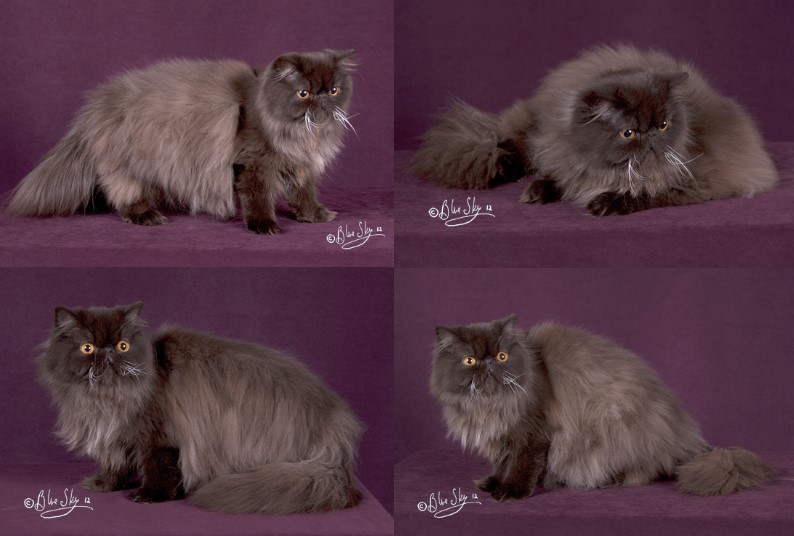 CH DREAMZ TITAN aka 'TITAN'
CHOCOLATE SOLID MALE
DOB - OCT., 21, 2011
CH.DREAMZ TITAN recieved his Canadain Championship in Canada before leaving for his new home in TENN.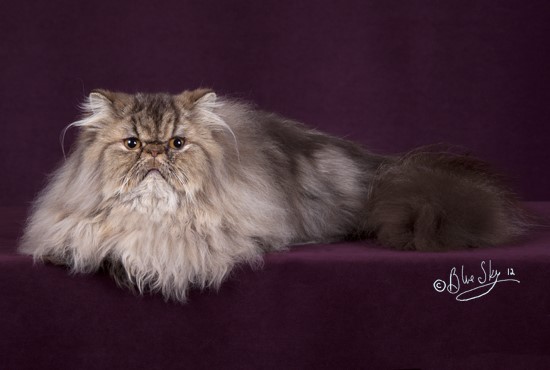 DREAMZ PANDORA aka 'PANDORA'
CHOCOLATE TABBY FEMALE
Here is DREAMZ PANDORA a beautiful Chocolate Tabby female sister to CH.DREAMZ CINAMMON SWIRL on our queen page.
Pandora will be leaving soon to go and live with our friend Vickie in TEXAS.
******************
APRIL, 2, 2012 SAW THE PASSING OF A CHOCOLATE ICON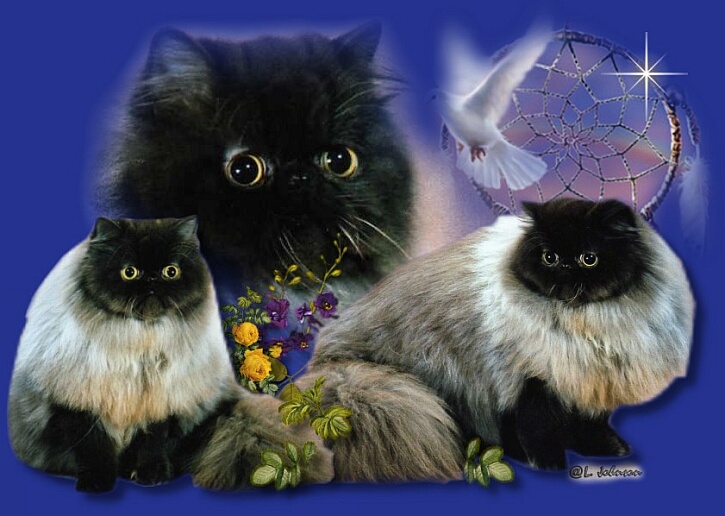 GC. Lake Hyco's Brown Thrasher
CFA's Best Chocolate Persian 2000-2001
http://www.chocolatecats.com/grandchampions-persians2.htm
There is no thanks great enough to express our gratitude properly.
A great thanks to Teresa Glisson of Lake Hyco a friend who is always there for us,
for this wonderful, grand, Chocolate treasure. He will be greatly loved in our home.
******************
Well on this page we will be displaying news on DREAMZ babies from around the world.
This should end up being a very interesting page as so much is happening at the moment.
EWS FROM DREAMZ and SUNSHINEZZZ HIMALAYAN & PERSIANS
It was a great weekend for Chocolates on Sept., 24, 2011 at a CFA show in New Hampshire our boy DREAMZ CHOCOLATE WARRIOR a Chocolate Lynx point owned by LISA of SUNSHINEZZZ recieved a final in the kitten class. Way to go Lisa, congrats. And on Sept., 25, at a CCA show in St-Jerome, Quebec my 2 girls DREAMZ FOXY ANGEL and DREAMZ MAGIC HAPPENS recieved thier Canadian championship. And our little boy DREAMZ DRUMMER BOY OF OXOLADO a Chocolate solid finaled in the kitten class. Congrats to his owner Lise Sorel. Now in the CCA an open usually doesn't final, however FOXY did not once but in 3 rings out of 4. FOXY even got Best of Breed in one ring pulling her up to number 4 in that ring's final. In the CCA these finals don't give FOXY points but indicates that FOXY is one great Chocolate that should great quickly. Watch for all of these Chocolates at a show near you.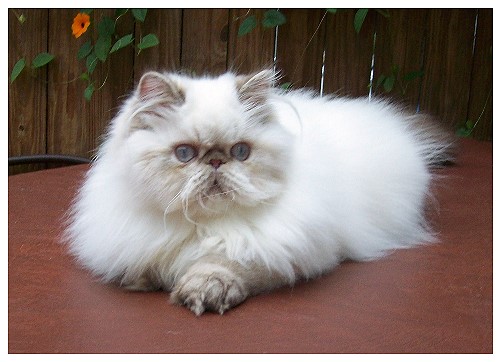 ****************************************************************************************
NEWS FROM DianeFitzpatrick OF alfenlochcollies
We are so very proud to anonce that DREAMZ SNOW POPPY has just sire a beautiful litter of pointed babies for Diane. These babies are so beautiful, congrats Diane.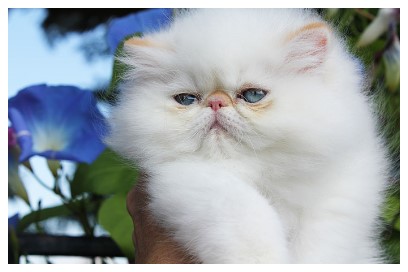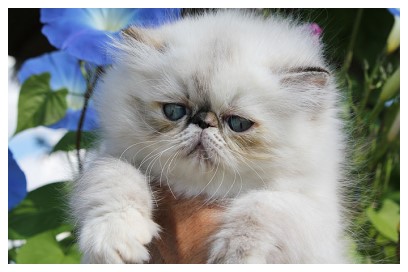 ****************************************************************************************
NEWS FROM A KIT KAT HAVEN
Congrats out to Sue of A KIT KAT HAVEN in California her boy CH. DREAMZ WILLY WUNDER BAR of A KITKAT just sired a wonderful litter of Seal points carriers, And they have the dark blue eyes that thier grandmother INT.CH.DREAMZ DREAM MAKER has. Our line is passing these stunning blue eyes into thier off spring. Just look at this beautiful baby of Willy. Also check out WISHES on our Past Kitten page the very same eyes. Congrats dear Sue.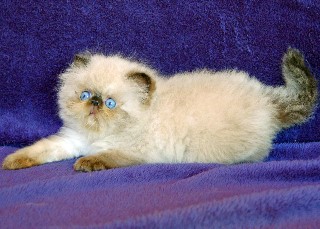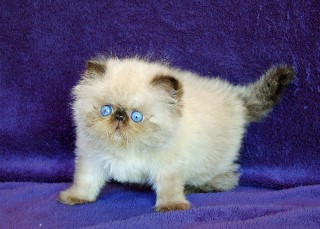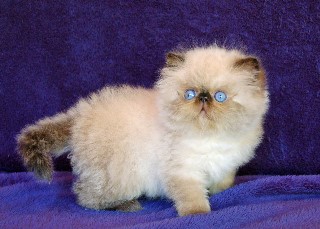 ****************************************************************************************
NEWS FROM BRAZIL

Well the DREAMZ line is doing great in Brazil both DREAMZ DREAM WEAVER and DREAMZ MIDNIGHT LACE now live with Regina Duque. Poor Lacey nothing better then a pet with a great pedigree. At the time Regina wanted a nonpointed for her breeding program all l had was Lacey. But she knew as l did pedigrees are very important. So Lacey along with Bam Bam packed thier bags for Brazil. And bang both proved to be great for Regina's program. Little Lacey produced 5 beautiful top babies in her first litter. Her rarest and best is this great Chocolate Lynx point.;;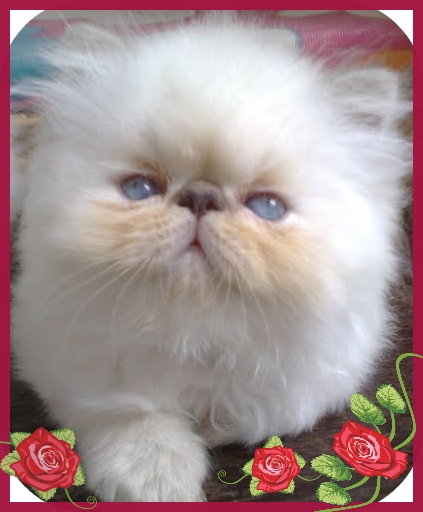 Just look at this baby's great type way to go Lacey proving to everyone what both Regina and l already knew, a pedigree can be just as important as outward looks. And you ask what about DREAMZ DREAM WEAVER, aka Bam Bam, well he is doing just as great look at this great Lilac Cream Lynx point, who could ask for better.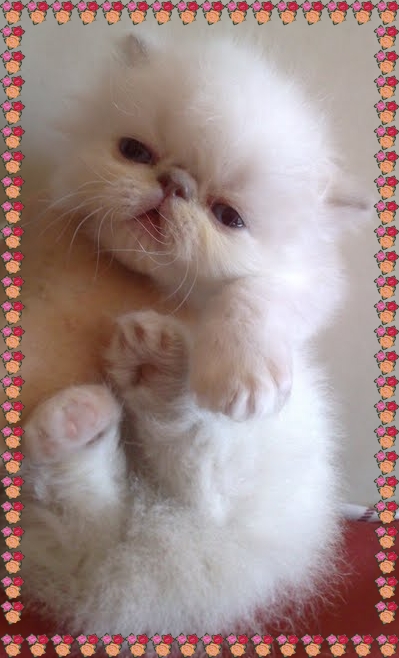 I'm so proud of you Regina and proud of how my babies are helping you with your breeding program in BRAZIL Congrats dear friend. Please we invite everyone to check out Regina's site in Brazil and her wonderful remarks about the DREAMZ line at;; www.lilacpersiancats.com
****************************************************************************************
NEWS FROM STEPP'NSTONE

On May 28, 2011 at Cambridge, Ontario Drummer's girl got her CFA Grand Championship. GC. STEPP'NSTONE'S DRUMMER GIRL became a 3 show grand this beautiful Black female Carrier is a pure joy to behold. Way to go girls.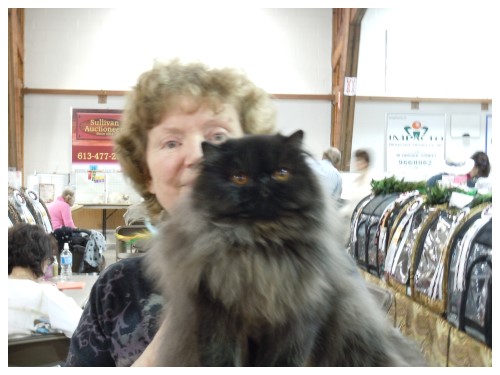 This photo is of our friend and the breeder MADELEINE SAUNDERS holding DRUMMER GIRL in BELLEVILLE, Ontario, where she got her Canadian Championship

This now makes Drummer the producer of a CFA GRAND. Once agian congrats Madeline. Please check out the STEPP'NSTONE site to see this wonderful girl in her full glory.
****************************************************************************************

NEWS FROM CLEGHORNPAWS CATTERY

Well our boy DREAMZ FLEETWOOD of CLEGHORN PAWS aka 'TROOPER' prouduced Chrsty our sweet Southern Bell with a wonderful Chocolate Lynx boy. Such a wonderful rare treat. For those who don't know Christy named Fleetwood his name as it was around the time we saw Fleetwood Mac in Ottawa. What a wonderful way to conect this wonderful cat to a great memorry. Thank you Christy you are truely a kind great lady.
****************************************************************************************
NEWS FROM US

What can l say we've help many breeders and there are still many we've set up breeding pairs with. In time l'm sure many of them will end up with thier news on this page. For those of you who don't know the CCA 2009-10 show season will be always a great memory for the DREAMZ line. Our beautiful SMGC. DREAMZ DREAM BEAU CNW RW became a star in that show season becoming the highest scoring Himalayan of the year, and giving us the trophy for the Best Himalayan breeder of the year. Followed by his baby brother NOVA, and his niece ANGELEYES also recieved her Grand Championship at the beginning of the next season. AngelEyes is our fourth Grand Champion and our first Grand Visual. And with the Introduction of Drummer from the STEPPN'STONE Cattery this gives us 3 Grand Champion Chocolate Solids to work with. l would like to thank all the Judges & Breeder now and from the beginning that have maded our DREAMZ come true. And l believe and yes dream the best is yet to come. Thank you everyone.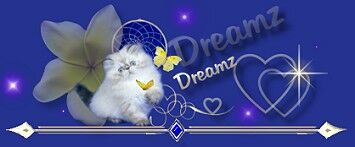 Email: benlynn20012000@yahoo.ca

©2005 Dreamz Himalayans & Webdesign Passion Féline.
Exclusive copyrights, graphics and content. Forbidden distribution and reproduction.
Photos on this site are the exclusive property of the respective photographers.